The two most common questions I get when I'm sitting on a panel or giving a talk about crowdfunding are "How do you do it?" and "How can I do it too?" No one wants to hear statistics, theories, or one-size-fits-all advice, and I don't blame them. People want real guidance, real stories from the trenches, and real takeaways. That's why I decided to write this post and came up with this guide–to show you exactly how to get crowdfunding for your next book (or any creative project).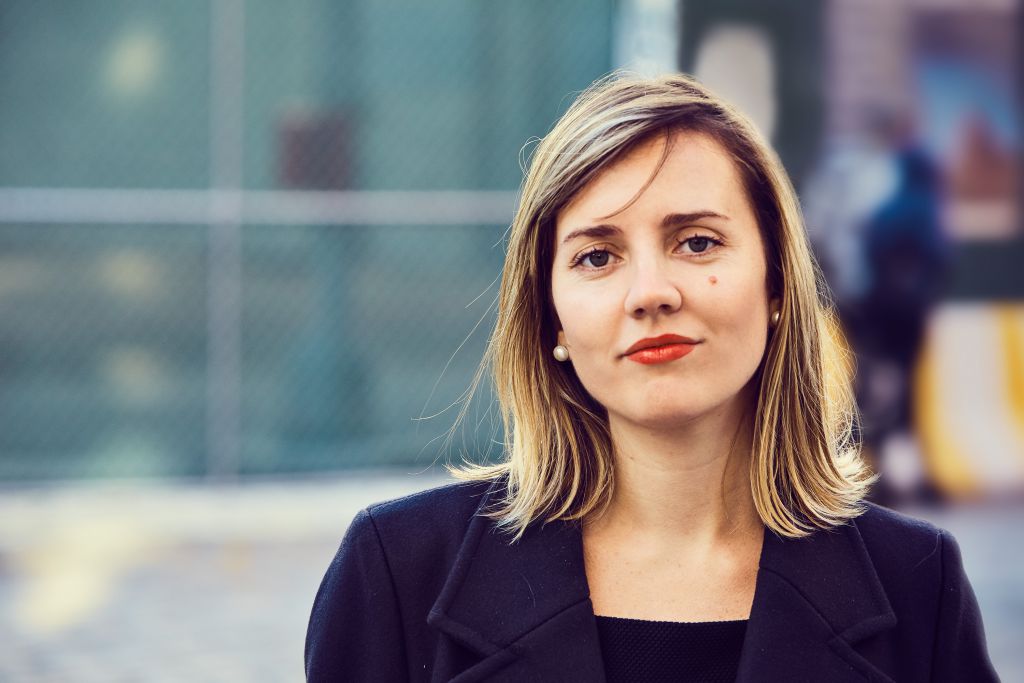 In a nutshell, this is how to get crowdfunding for your next book:
Learn about the different types of crowdfunding
Decide on using a publisher vs self-publishing
Get started with crowdfunding – building your list
Create promo videos
Build an awesome campaign page
Leverage social media and press
Start crowdfunding!
I am the founder of Vann Alexandra, where we prepare, promote, and launch crowdfunding campaigns; We've raised over $20 million (and counting) across over fifty crowdfunding campaigns, and I have a lot to share.
Crowdfunding has given me a lot—my career, my company, my sense of purpose, and the amazing experience of an entire community getting behind what you're doing. I love the egalitarianism of crowdfunding—I love that it's available to all, and not just the privileged few.
I want to give back to the crowdfunding community that has given me so much. And that's why I wrote I wrote a book a about it–The Crowdsourceress: Get Smart, Get Funded, and Kickstart Your Next Big Idea.
The Crowdsourceress is the definitive guide for anyone looking to raise money and awareness for a creative endeavor, product, or cause. I use the stories of some of my most successful campaigns as case studies, and teach you how to:
Get fans and influencers excited about your launch
Create rewards that the crowd will actually want
Build an appealing and powerfully designed campaign
Access proven pitching tactics, press releases, and more to get funded
Produce stellar persuasive videos that tell the right story
Avoid the most common headaches and pitfalls
Turn your successful campaign into a business
You'll get tangible tools to run your own crowdfunding campaigns—to fully connect with the crowd, get people to pay attention, and inspire them to act, so you can make your dream business a reality.
And now, I am going to give you a taste of those tools–specifically for crowdfunding a book. Your first question is probably: How have you done it before, and then, How can I do it too? Well, here we go.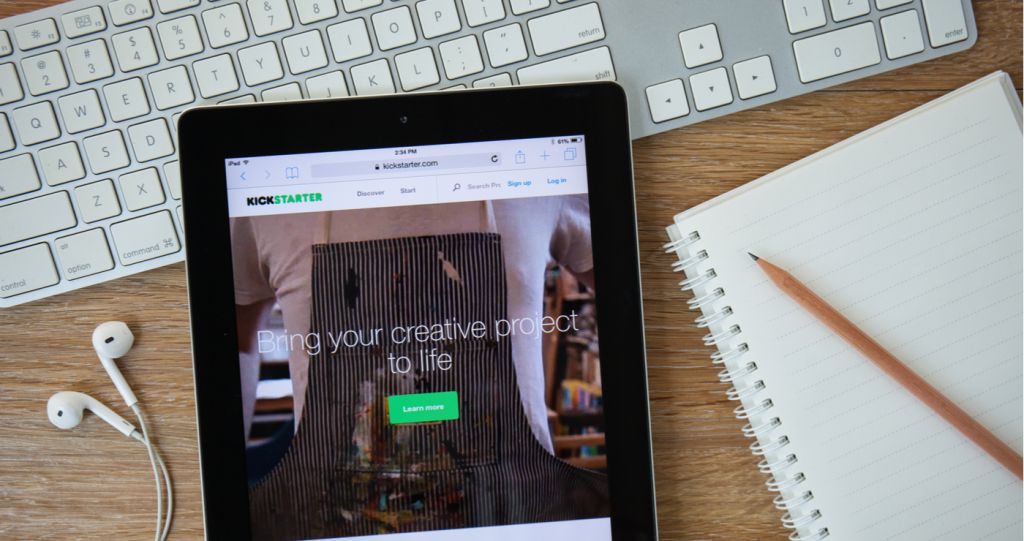 1. Crowdfunding 101
Some background: in rewards-based crowdfunding, project creators raise money for projects through online pledges from backers, and in return, backers get a reward. For example, in the publishing category, a reward might be a copy of the book, dinner with the author, or a thank you in the acknowledgments. What's really fascinating about rewards-based crowdfunding is that backers are essentially donating to a project, not investing in it. In the case of many crowdfunding campaigns—like those in the publishing category—backers are pledging to help make your project happen, not necessarily to place an order on a product.
Two widely used rewards-based crowdfunding platforms are Kickstarter and Indiegogo, where creators set a monetary goal to reach within a limited period of time (for example, 30, 45, or 60 days). A critical difference between Kickstarter and Indiegogo is that funding on Kickstarter is always all-or-nothing. If a creator raises only $49,000 toward a $50,000 goal on Kickstarter, they get nothing. On the other hand, on Indiegogo, creators can run a campaign with an all-or-nothing "fixed" model or with flexible funding. Flexible funding means creators keep the money they raise, even if they don't hit their target.
I'm here to tell you with complete confidence that there are thousands of people out there who are eager to put money toward projects they believe in. In 2015 alone, the global rewards and donation-based crowdfunding industry helped generate staggering $5.5 billion in funding—not a penny of which will ever have to be paid back.
But before you get the idea that crowdfunding is basically money for nothing—or that it's easy to raise money online—think again. While there are definitely advantages to crowdfunding over funding yourself, the harsh reality is that between 69-89% of crowdfunding projects end up failing. That's a pretty big number! Plus, failing on a platform like Kickstarter means failing hard—if you fall short of your goal by the deadline, you won't see any of the money, you've raised, and you might actually tarnish your shiny idea.
The good news is that if I can be successful at crowdfunding, so can you. While I have some historically successful campaigns under my belt, I was pretty much clueless when I first started. The first time someone asked me to help with a project, I had to Google "Kickstarter" to find out what it was. But I learned on the job, figuring things out as I went along. Now I am here to share that knowledge with you.
2. Using a publisher vs. crowdfunding your book
Some $22 million was raised in 2014 alone for publishing projects, which was the third most common category! Crowdfunding allows you to fund the production of your book and sell it in a single process. You can appeal directly to the crowd–leveraging a platform such as Kickstarter to find and connect to your audience, create enthusiasm, get pre-sales, and get the money you need to create and distribute a beautiful product. Most importantly, it allows you to crowdfund that niche book that traditional publishers might not think there is an audience for (hot tip: most things have an audience, you just have to go and find it).
I managed the campaigns for the NYCTA, NASA, and EPA Standards Manuals. These are relatively expensive and niche items that traditional publishers wouldn't be interested in producing. The books are large, expensive to produce, and esoteric. Yet, they all found a passionate customer base of design nerds via Kickstarter, which led directly to the formation of an independent publishing imprint by its creators. These campaigns are a great example of books that are a perfect fit for crowdfunding: they are visually rich and gorgeous to look at, and have a loyal audience online.
There are many ways to publish a book yourself, and it's more accessible now than ever. But it's not the best fit for every book. For example, novels can be challenging to crowdfund, unless you're an established author with notable past work and a big audience. If you're going to crowdfund a book, make sure it's image-heavy and offers as many "sneak peeks" as possible. Plus there are perks involved in traditional publishing. If you choose to go through a publisher, there are many things they will handle: on top of printing the book and distributing it, they can help you with PR, marketing, and making connections inside the literary world. There's also a small element of prestige around having your book published through a renowned publisher, but of course, that won't determine the success of your book.
You'll find endless opinions and posts online about the pros and cons of each method. I recommend you read around before making your final choice, and choose the best fit for you, your options, your writing, and your goals.
3. Getting started – building your list
So you decided you want to crowdfund your book–congrats! Let's start with the most important part, the crowd!
Harnessing the power of the crowd is definitely not an easy task, but there are certain steps you can take to set yourself up for success. One of the first things I ask clients is if they have a built in audience.
A built-in audience is the most motivated, enthusiastic segment of your "crowd." They are the people who make your project a success. They are the people who are inherently interested in you or your project in some way. You want devout interest. The strength of that built-in audience depends on how devout they are. A built-in audience consists of:
Engaged subscribers to your mailing list
Dedicated followers on social media
Avid readers of your blog
Loyal listeners of your podcast
Interested fans in the industry
Your audience will inform how you tell your project's story—from the video to the campaign page to the rewards. Knowing who you're speaking to will determine how you speak. This is the foundation of your project's success. It will also determine your outreach strategy—who might be likely to cover you in the press and support you on social media and beyond.
Once you've established the built in audience, you should start to gather all these people through newsletter signups on our client's website or social media channels. Set up a splash page before your project launch with a space for viewers to sign up for your newsletter. In lieu of a splash page, you can also do this through a Facebook page or Twitter profile–get the word out that you have a project coming up, build some intrigue, and encourage people to join your list.
You can also invest in digital marketing, which will help with getting the word out during an before your campaign through social media ads and placement on blogs and websites.
4. Video
A great campaign page is incomplete without an awesome project video. Here are some of my top tips for creating a killer campaign video:
Hire a professional
Or, use the right tools if you know what you're doing.
Professional help (with filming, editing, color + sound correction, etc.) can really make your video shine. It'll also show backers that you care about the work you're doing, and that you put time and effort into it.
Keep it short
We recommend keeping it under 4 minutes, around 2.5 mins is the sweet spot.
You can always create another video to post on the page later on if you have more to explain.
Get to the point
Make sure you mention the project in the first 30 seconds of that video–keeps viewers engaged early on!
Tell a story
A story that also gives viewers the necessary information! Keep it cohesive and with a natural flow.
Questions to consider: How did the project come about? What is it? What does/will the idea/product do? What problem does it solve? Where is it in development right now? Why are you crowdfunding? Where is the money going?
Write a script + make a storyboard
It's helpful to lay out and list the essential points you want to hit, and then expand on them and how visuals + words will reflect them.
Create a narrative: there should be a beginning, middle, and end. Then create a storyboard by adding what you plan to show on the screen to correspond with each part of the script.
But, don't read off a script!
The script should just be something to follow–don't sound like a robot!
Get Music
But don't use unlicensed music.
Make the "ask" short.
The ask for funding should be the shortest part of the video–main focus should be on the story.
Be yourself!
It's key to show your genuine, authentic self in the video–equally important for new and returning backers.
Make it polished, but not fake. Attractive but attainable.
Get feedback!
Send the video to your friends, family, coworkers and get their feedback. You'll be sending this to a crowd, so you'll want the crowd's input first.
5. An awesome campaign page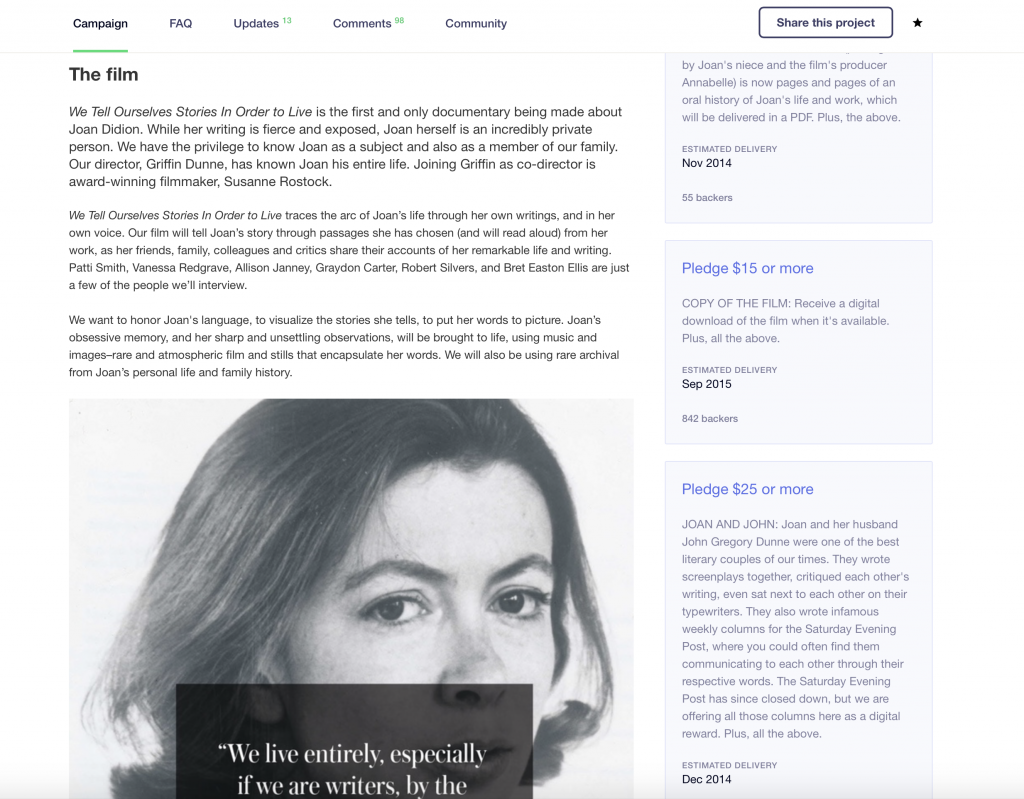 The campaign page is your pitch. It's where you get to explain and present your project in full. And that doesn't mean just typing in a few paragraphs in the fields provided by the crowdfunding platform. It means showing what your campaign, your brand, and you are all about through a narrative and visuals. It's your story.
Since you're creating a campaign for a book project, writing shouldn't be a problem for you. What might be more challenging will be keeping it concise. You don't want to give too much away (people will need to read the book, after all!) while giving as much information as you can in order to draw in backers.
When my team and I sit down to put together a campaign page, we first need to understand the story we're telling. Our goals are to be descriptive, transparent, captivating, and persuasive. We have to lead backers through our thinking, step by step, so by the end, they can't wait to back our project.
Often, the story on the page is similar to the story in the video, but more robust. It's actually okay if the video story and page story overlap—some people might scroll down and start reading before watching the video, so your campaign page should start at the beginning.
In the video, getting to the point of what your project is in the first 30 seconds is important, and on the page, we take a similar approach. Without wasting any space, we want to quickly tell readers in plain, simple terms exactly what this project is all about—and get them intrigued, ready to scroll down to learn more.  To cut down on words, include some strong visuals that help tell your story and sell your book as well.
6. Social media and press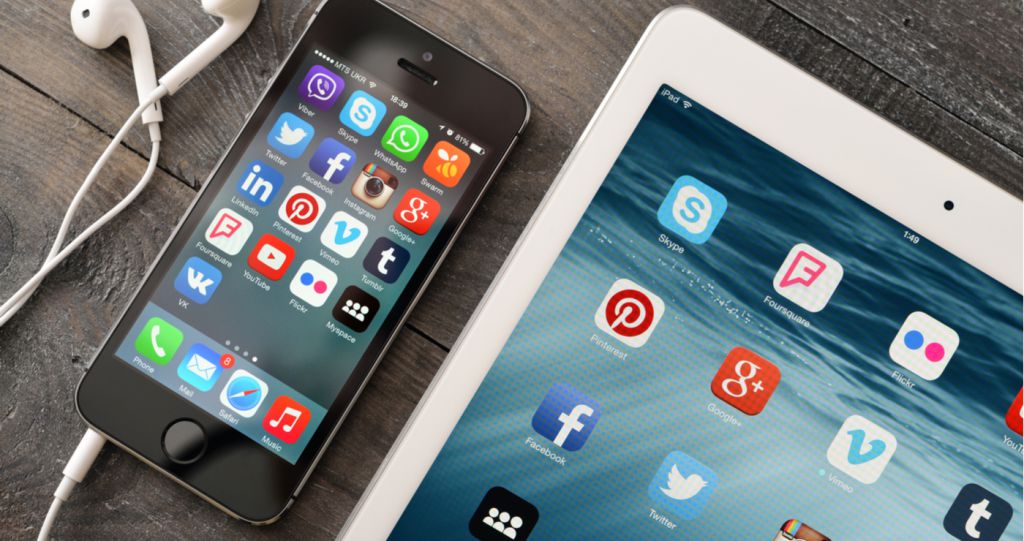 Getting the word out will be vital to your campaign–successful campaigns are the result of having a crowd that will fund you. Your friends and family are, in most cases, not a big enough crowd; thankfully, the internet has endless resources to spread the word. Let's go over two main ways to get the word out: social media and press.
If you haven't already, make sure you have active and running social media accounts. Twitter has proven to be super helpful in getting a message out, since it's easy to share quick notes with many people at once. If you're just getting started on social media, make sure you establish a presence before your campaign–start your account months before to gain some traction.
You can read all about how to get more followers in this article, but it's what you can expect: stay active, pay attention to others, and seek out those who have similar interests. Keep track of your followers and those who would be interested in your book, its topic, or the publishing world in general. Compile these into a sheet and start searching for their contact information so you can reach out once your project is live–it will help to tell them that you've been following them on social media!
Now, let's talk press. "Getting press" means having your crowdfunding campaign receive media attention, whether it's featured in an article, mentioned in a podcast, reviewed on a well-known blog, talked about on a TV show, or any number of other options. Here are a few top tips on how to get your book campaign written about:
Create a press kit complete with a press release, bios, talking points about your book, and hi-res images. The talking points are sort of like a Q&A: they should explain your product, process, or methodology in more granular detail in your voice. Journalists can pull from this for stories they write. You should store the whole press kit in an easily shareable online folder like WeTransfer, Dropbox, or Google Drive so it's at our fingertips.
Research appropriate outlets and audiences for your campaign.
Develop strong media stories around the campaign to get people excited.
Pitch top-tier media outlets and relevant blogs.
It helps to compile everything into an excel sheet for easy access. Once you feel comfortable with your list and have a good list of journalists lined up, you should send out pitches–with your press kit–around 10 days before your campaign launch. Then, follow up with your pitches on launch day announcing that your campaign is live.
Don't sweat it if you don't get responses right away! Keep on the lookout on websites you pitched for coverage; a lot of the time, journalists may write about your story without getting back to you directly.
7. Let's crowdfund!
Crowdfunding your book will by no means an easy process. It will take a ton of hard work, and success is far from guaranteed. However, by putting in the necessary hours and following these steps, you will put yourself in the best possible position to crowdfund your next book.
I wrote The Crowdsourceress to help dreamers and creators bring their projects to life. I hope these tips (and of course the book) will help you achieve yours!